About Us
Winston says the first stop is a quick tour of the shop. The Shop is a small family-run business that caters to customer creativity with an emphasis on high quality products and customer satisfaction. Winston likes this 'cause he has been named a the "pawsquality officer" and "collar-model." Good grief as if his head wan't big enough.
The Products:
Winston says we offer several types of products all made from high quality leather. Special requests will also be considered if you don't see what you need.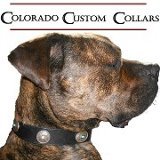 He says he'll start with his favorite - the collars. All collars are started with latigo leather. The leather is conditioned and waterproofed. The edges are beveled and sealed. All buckles and hardware have been selected for strength and durability.
Because he knows big dogs and little dogs have different collar needs he offers a variety of styles for every dog no matter what the size. For the larger dog he offers 3, 4 or 5 concho collars, or collars with a crystal pattern.
Buckle Collars:
He says there are lots of conchos to choose from. He reminds you to go to the Concho Selection page to see them. Martingale collars are also available for the larger dog adorned with your choice of conchos.
For the smaller dog or cat he says he's got them collared too. These collars are made with an ultra-soft leather that comes in a variety of colors and textures. Certain conchos can be added to the collars, or a variety of colored crystals. Be sure to check the availability of a certain color before ordering. Martingales can also be made for the smaller dog using the ultra-soft leather.
Winston says you don't want to attach a beautiful custom collar to any ol' leash so he offers several leather leash styles. There's the Regular Leather Leash, a Lightweight Leash for the little fellas, Two-dog Leash and a Convertible Leash. The leashes can be made in 1/2", 3/4" or 1" leather for any size dog. The Lightweight Leash is made from an ultra-soft leather.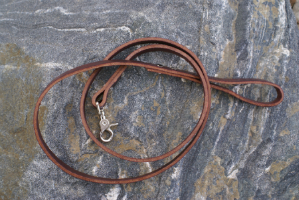 So the people don't feel left out Winston says there are some fine leather products for them. There are belts, bracelets, and boot baubles that can be made to match the collars. So the keys aren't lost after walking the dog Winston says be sure to order a Key Leash. But these handy leashes can be used to keep track of lots of other valuables.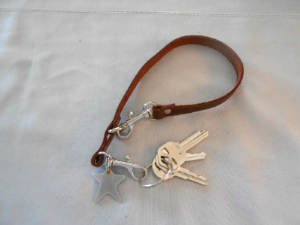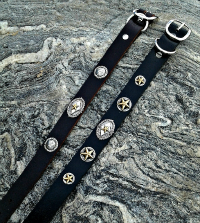 ---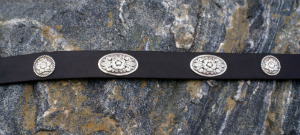 ---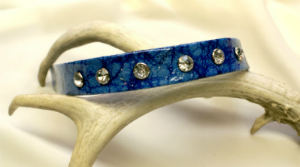 ---